Carpet Cleaners here in Utah seem to be a dime a dozen. But it's important to know that price cannot be the only thing you use to determine who you should work with. 
There are a few factors to look for when it comes to choosing the right company. 
Are There Technicians Trained & Certified

Do they understand the science behind cleaning? 

What kind of results do they guarantee? 
A Certified Carpet Cleaning Technician Will Vacuum Before Anything Else 
That's right! To give your carpets their best-ever clean, there are a few things we keep in mind while we're getting those stains out.
So before any carpet cleaner cleans your carpet, the very first thing they should do is vacuum. If they aren't vacuuming your carpet they haven't been certified by carpet companies to clean your carpet. 
That's right. Carpet cleaning technicians can go through training and get certifications from those who make your carpets. The best carpet cleaners will have this clear and upfront — just like we do. We take time to make sure our technicians are fully trained to bring you an amazing clean every single time. This is why one of our core values is Setting the Standard and Keeping the Standard because anyone can start a carpet cleaning company, but that doesn't mean anyone will leave your carpets truly rinsed. 
*TruRinse includes vacuuming in the cost of your cleaning each and every time. You should never be charged extra $$$ for having a technician vacuum your carpet. Even if you vacuum before they clean, they should vacuum again to ensure the best clean possible.*
There is absolutely an art to carpet cleaning, but did you know there's also a whole lot of science involved?
The TruRinse Approach combines many components and one of the key things is that at our core we use the CHAT Carpet Cleaning Method – There are four pillars of carpet cleaning: cleaning solution, heat, agitation, and time (CHAT). To get the best clean, you need equal parts of each. 
Think of it like a pie cut into four slices. If you don't apply enough of one part, you'll need to compensate somewhere else. For example, if you don't let your cleaning solution sit long enough (time), you might need more heat or agitation to get the dirt to lift.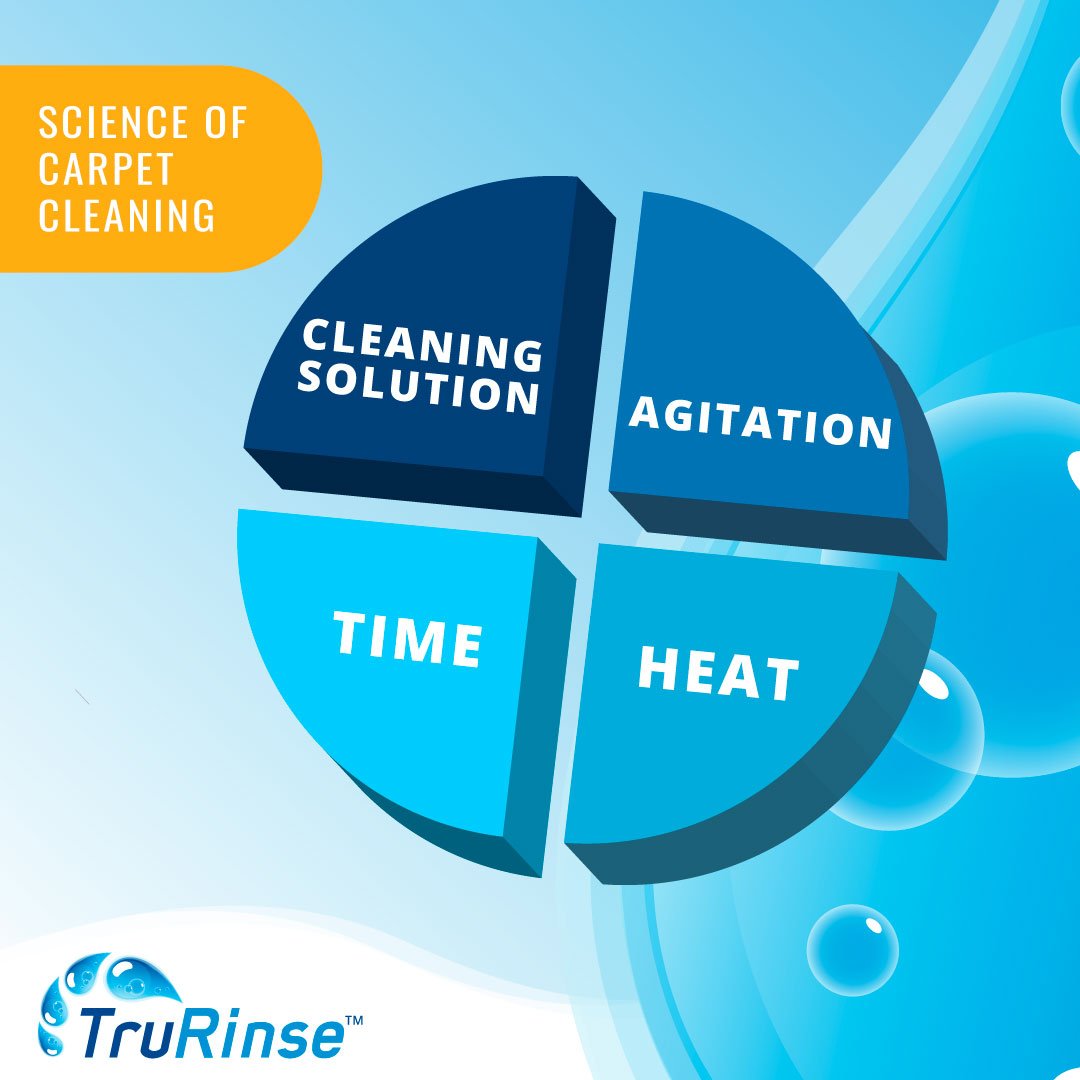 Let's go over the four pillars that bring you a TruRinse quality clean: 
C: Cleaning Solution
Other carpet cleaning companies have a van full of different chemicals they use to get your carpets clean. But since we don't use harsh chemicals, we use our all natural cleaning solution instead, which is safe for pets, kids, and everyone in your family.  
We've created our own TruRinse Solution, a patented cleaning solution that is all-natural, free of soaps and chemicals, is non-allergenic and 100% odor-free, making it environmentally friendly but also effective. This is what we use to pre-treat your carpets before applying water and steam. We've gone back to the basics, and it's a win for all!
The best part is you can also get our cleaning solution in a Spotter Bottler > 
You can also use this spotter bottle to help with your laundry, upholstery (not on leather), detailing your car, car seats, shoes, hats, and more. Make sure you agitate the solution with your fingers or a rag. 
A: Agitation 
In the carpet cleaning industry, many companies use chemical solution as their agitation step, along with equipment like heavy agitators and buffers that are harmful to your carpet. 
Our TruRinse Solution is so effective, all we require for agitation is a carpet rake to ensure our solution is dispersed and worked into your carpet. This also will not damage your carpet, or add additional wear and tear. 
You don't need aggressive agitation, gentle agitation is enough to get the TruRinse Solution activated, and then it goes to work cleaning your carpet fibers. 
T: Time 
No matter how much heat or agitation is applied to your carpet, the cleaning solution needs time to take effect and do its job. 
This is why we make sure there is enough time between application and cleaning so that when we come to rinse it out. The hardest part has already been done. 
If you see a carpet cleaner that leaves the cleaning solution in your carpet, like with a buffering then you can know that they arent taking the time to truly clean or truly rinse your carpet. 
H: Heat in the Rinse
At TruRinse, we use a high-powered, truck-mounted hot water extraction method incorporating steam along with the water to truly rinse and extract dirt, grime, and anything else that might be lingering in your carpets. 
The way we rinse your carpet leaves fairly dry carpets. We take out the majority of what we use to rinse your carpets, so we aren't flooding the carpet, we aren't soaking your carpet pad. Our cleaning wands use very powerful suction so that you can have clean carpets left behind, not water, or other things that will attract more dirt. Or problems down the road. 
Because we apply and utilize this science, combined with many years of expertise and using the right technology, our customers experience fast dry times, and we leave your carpets Truly Clean and Truly Rinsed™. It's also why we are confident and guarantee you will be amazed!
Finding the balance between these 4 pillars of carpet cleaning means getting you the best results possible, and we've found the sweet spot. We love carpet cleaning, we love serving our customers, and we love taking care of your home. 
Our business started because we wanted you to be able to find reliable individuals who care about your home maintenance and the results as much as you do. Utah and Salt Lake County, thanks for letting us serve you over the last 10 years, we look forward to working with you as we set and keep the new standard for carpet cleaning. 
If you are looking for carpet cleaning, it's as easy as 1. Go online to Get a Quote, 2. Approve the Quote, 3. Book Your Appointment! You can also contact us at 801-226-6827.
Try TruRinse for yourself, and don't forget to check out our monthly special, and our Spotter Bottle that gives you the power of TruRinse Solution for spots and spills in between your 6 month cleanings.