Frequently Asked Questions
TruRinse™ is happy to answer any questions you may have about the process, your appointment, and what to expect. Find answers to common questions here.
F.A.Q.
Frequently Asked Questions
Do you charge by square foot or by area?
We charge by square foot. In our monthly specials, you'll see us refer to these spaces as "rooms." Each room is equal to 200 square feet. Rooms consist of living rooms, bedrooms, hallways, stairs, etc. Spaces larger than 200 square feet may count as more than one room.
Are there any additional charges for services?
We have no hidden fees. But there may be additional charges for specialty treatments such as urine pet treatment, stain removal or to apply protectant to your carpet after cleaning.
How often should I clean my carpet?
If it's dirty clean it! We recommend that you clean your carpets every 6 months. Just like you change your oil every 3000 miles, you clean your carpets every 6 months. Maintenance is the key to saving your carpet!
How long is the drying time?
We quote a 6-8 hour dry time but dry time can vary depending on air circulation in your home and the humidity outside.
How long does the cleaning take?
Cleaning time can vary depending on how soiled your carpet is and how many areas you are having cleaned. Typically, a 3 area clean can take anywhere between 1-1/2 hours.
What does your name mean?
TruRinse means that we truly rinse your carpet of any contaminants, soil, or anything left behind by previous cleaners.
What kind of process do you use?
We fall under the category of truck mounted hot water extraction or steam cleaning system.
Do you clean area rugs?
We have two methods of cleaning. We can hand wash fine, delicate rugs such as oriental rugs, wool etc.. Other types of rugs we can clean on site with the same process we use to clean your regular carpet. Prices vary depending on what you are having cleaned.
What forms of payments do you take?
We accept cash, check, and debit/credit cards but there is a $5.00 fee to process a card and require payment at the time of service.
What is your guarantee?
The only guarantee we have is that you will be amazed!
What do I need to do before you come?
We ask that you have any small furniture pieces moved out of the areas you would like to have cleaned. We do a pre-vacuum but ask that you have any large debris picked up before we arrive. We do not move furniture due to liability issues, but our technician will clean around larger pieces that are not moved.
Book Your Appointment
Contact us today to get your appointment scheduled for any of our services!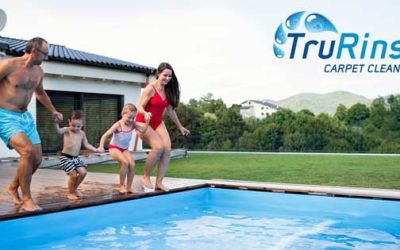 Yay! Summer is finally here! There's something in the air (probably sunshine) that seems to just wake us all up a little bit. We're constantly going places; outdoor activities, vacations, parties, and lots of awesome family time. There's so much to do, and the...